Likely for review manipulation.
Developer SimFabric has become the latest target of the Steam banhammer this week. While specific information has yet to be made public, we here at MMO Fallout discussed SimFabric over a week ago that may explain why Valve decided to terminate their business deal with the developer. About a week ago, our sleuths here at MMO Fallout discovered that SimFabric's latest demo for Cthulhu: Books of Ancients was clearly being review botted by fake accounts.
You can see it from the screenshots below where accounts with the same formatting, all of which had never reviewed another game on Steam, all of which were new accounts, all of which were privated for social functions, were posting suspicious positive reviews of the demo. Who cheats on the review score for a demo? Regardless, a few of the accounts we noted were going into the forums and being belligerent toward people criticizing the demo.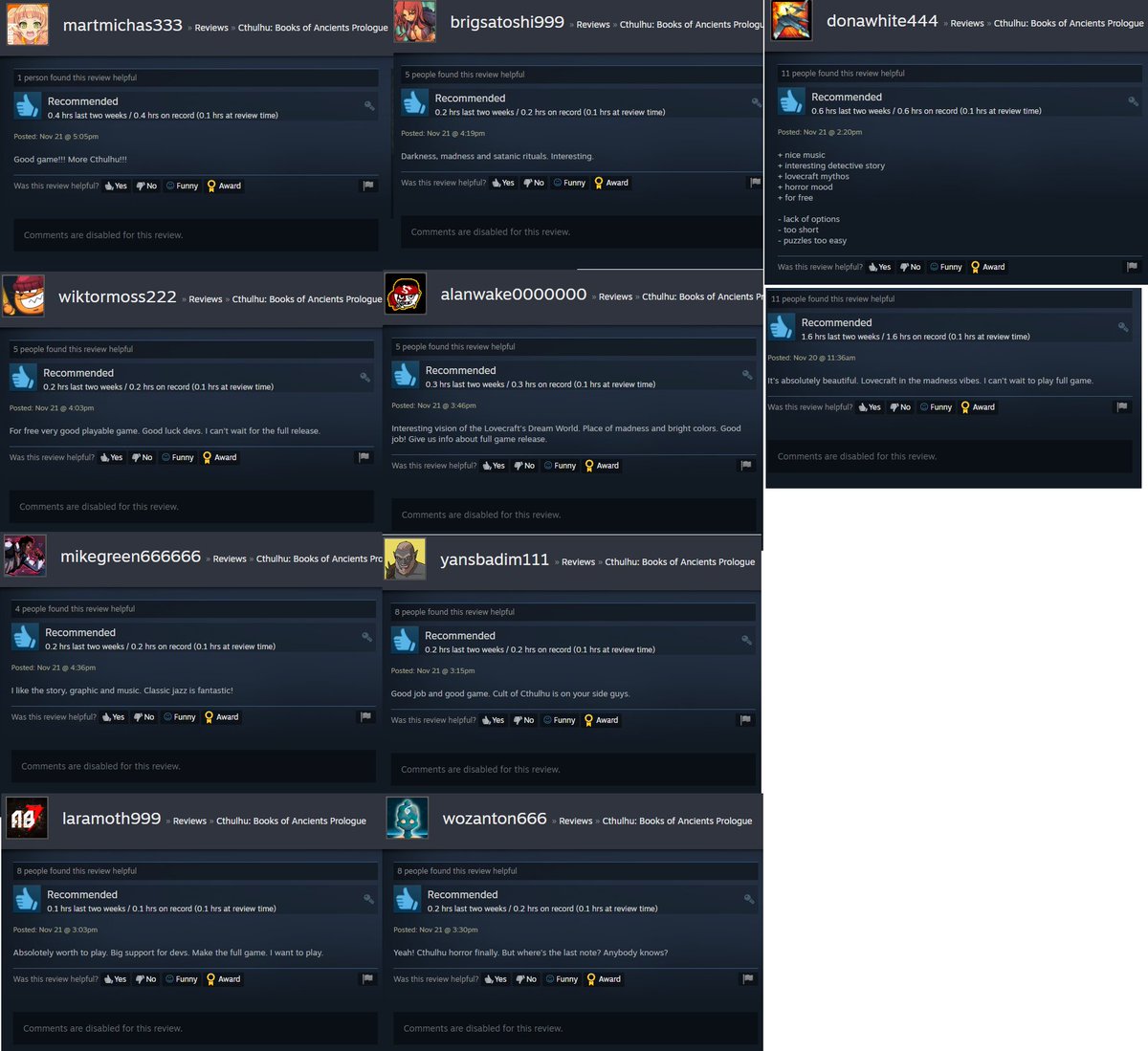 Especially stupid because SimFabric, unlike many of the other developers we talk about here, is a legit studio. They're on a stock exchange and all that. It should be noted that there is no concrete evidence that the reviews were posted by SimFabric employees or on behest of the company. But there were very obviously fake reviews being posted to the game's prologue. MMO Fallout has not investigated any of SimFabric's other titles for potential further fake reviews.
The company posted a message to investors earlier today addressing the ban (machine translated from Polish):
Management Board of SimFabric S.A. with its registered office in Warsaw "Company" informs that on November 29 2022 received information from Valve Corp. – a company operating the STEAM store based on, whose Company account in the Steam store has been blocked.

The company has contacted STEAM and the case will now be examined in detail by STEAM in cooperation with the Company. The Company's Management Board will make every effort to clarify and restore the matter as soon as possible account operation on STEAM in the shortest possible time.
Whether or not SimFabric will be able to convince Valve to let them back on the platform will have to be seen. The list of banned titles includes the following.
The Artifact Hunter

Cthulhu: Books of Ancients

Cthulhu: Books of Ancients Prologue

ElectriX: Electro Mechanic Simulator

Farm & Fix Simulator

Flipper Mechanic

Game

Gardenia

Gardenia: Prologue

Gardenia VR

Moon Village

Mushrooms: Forest Walker

My Demon Wife

P.U.G.S. Agents

Game

Ring of Life: Survive in Proxima

Saboteur!

Saboteur II: Avenging Angel

Saboteur SiO

Train Mechanic Simulator VR – Vive Edition

Train Mechanic Simulator VR